HELLO!
So it's Eurovision week again - SO EXCITED! After watching the semi-final last night - I'm definitely excited for Saturday's final - it's going to be amazing! Also props to Scott Mills - he's hilarious "Whitmore's just gone to get some tea" "30 minutes down the road to Copenhagen" - British humour at it's best.
Although I'm sad this time Eric Saade is not present to show his beautiful face - much sadness and longing.
Here's a hot photo of Eric and a guitar just to balance out the sadness of him not being in Copenhagen!
So here's a quick lo-down of the a few of the acts that I LOVED from last night's semi-final!
Pollapönk - No Prejudice
These guys were awesome - their song, outfits and funky guitars and drums made me so cheery and happy!
The tension when they were going to be the last finalists called out was TOO MUCH. It's so cute how they were so humble about it as well - good for them, they'd better do well on Saturday!
Also their short intro before their performance was at a waterfall that I've been to in Iceland - therefore they are awesome. That's all. :D
Eurovision 2014 Semi-Final One Performance
András Kállay-Saunders - Running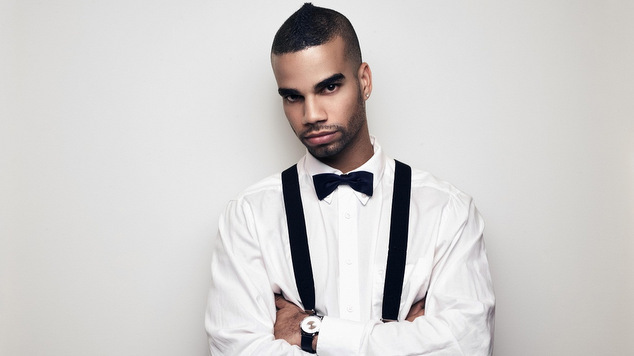 Loved the emotion in this guy's voice - definitely a strong competitor in the final!
Quite a catchy song - I mean "running" is quite a catchy thing. (awful pun)
Eurovision 2014 Semi-Final One Performance


Montenegro
Sergej Ćetković
Props to Montenegro for not making their act a bit of a joke this year - it was actually pretty great!
Fortunately it paid off and they've finally made it to the final this time! Excited to see how they do in the finals along with San Marino - 3rd time lucky?
Also how is that dancer 'ice-skating' on the floor?! I want to know about this mysterious slippery shoe contraction she wears! How are the wheels so cleverly concealed?! Also I really don't think she was as bad as Scott Mills made her out to be - she's got some skills! It's better than some of Montenegro's other dancers in previous years!
Eurovision 2014 Semi-Final One Performance
Armenia
Aram MP3
Props to his PR team - best presented image of the artist I've found high up on google images for this post!
Starting off as a slow song and then exploding into his husky rock-voice, full of emotion -this was great. I can see why this is a favourite - makes you feel a bit epic listening to it! It makes you want to go YEAH! Y'know..?
This song coming in the top 10 should be quite easy - but as we've seen in previous years of Eurovision, it can always be a surprise!
Eurovision 2014 Semi-Final One Performance
*Drumroll*
United Kingdom
Molly Smitten-Downes
Since UK's entry gets sent straight to the finals (being one of the big 5) and Molly deservedly so - I thought I'd talk about my love for this year's entry in this post!
This year's UK entry is amazing - I love it! Regardless of Eurovision, this song is a strong one in it's own right and I'm glad it has Eurovision to propel it to popularity!
I hope this song does brilliantly at the final on Saturday - I'll be gutted if it doesn't but there are a lot of strong contenders this year. I do love how the UK's going for something a bit young, different and fresh this year! Since Blue's performance, it's been a bit downhill really in my opinion!
For those who haven't heard it yet...
Molly - Children of the Universe
Don't miss the Eurovision Final, Saturday 10th May 8pm on BBC One!
I'm ready to cry (from laughter) at Graham Norton's hilarious commentary!
What are your favourites from semi-final one?
I'd love to find out what you think about the qualifying entries - the winner could be anyone!